Posts from August, 2013
August 26, 2013
Randy's Got a Podcast: Social Media Clarity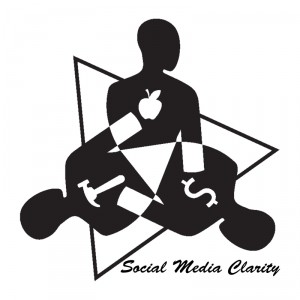 I've teamed up with Bryce Glass and Marc Smith to create a podcast – here's the link and the blurb:
Social Media Clarity – 15 minutes of concentrated analysis and advice about social media in platform and product design.
First episode contents:
News: Rumor – Facebook is about to limit 3rd party app access to user data!
Topic: What is a social network, why should a product designer care, and where do you get one?
Tip: NodeXL – Instant Social Network Analysis
August 23, 2013
Patents and Software and Trials, Oh My! An Inventor's View
What does almost 20 years of software patents yield? You'd be surprised!
I gave an Ignite talk (5 minutes: 20 slides advancing every 15 seconds) entitled
"Patents and Software and Trials, Oh My! An Inventor's View"
Here's some improved links…
I gave the talk twice, and the second version is also available (shows me giving the talk and static versions of my slides…) – watch that here:
August 2, 2013
Armed and Dangerous
[This is a repost from my long-dead Yahoo 360 blog, originally posted August 2006 about events in spring 2002. I decided to recover this posting from the Internet Archive because recent events, 12 years after 9/11, show that the authorities are STILL over-panicking about our security.]
How could I know that singing "Man of Constant Sorrow" in public could be considered a terrorist weapon?
One early spring evening in 2002 I went for a walk in my neighborhood wearing my FDNY September 11th Memorial T-Shirt (shown above), telling my family that I would return just after sundown (about 30 minutes).
About an hour and a half later I arrived at home teasing them by explaining that I'd " just been handcuffed, interrogated, searched, had a machine gun pointed directly at me, been ordered to my knees two feet from a K-9 gnashing it's teeth, and was nearly arrested as a terrorist … all just for singing out loud."
My family didn't believe me at first – until I showed them the reddened cuff marks on my wrists and the business card of PAPD Sergeant, Sandra Brown.
Now they wanted to hear the whole story…


One mild spring evening in 2002, I felt like singing. I wanted to teach myself some bluegrass and spirituals that I'd discovered recently (mostly as the result of recently seeing O Brother Where Art Thou?) and I felt like being real loud. So, rather than disturb by family, I decided to go for a walk and practice elsewhere. Given the weather, I'd only need a tshirt and jeans to keep me warm until well past sundown. I started singing right away when I got outside, but then noticed some of my neighbors, so I thought that it'd be better if I could find a place to belt out my baritone/bass tones where no one would care if I were in tune. I was practicing, after all.
"The pedestrian walkway over 101 would be perfect", I thought, "with any luck I'll be completely drowned out."
I'd made good time hiking to the pedestrian overpass, humming "Ahhhh am a maaaaan, of con-stant sah-roooow…" along the way. By the time I reached the apex of the passage, the sun was very low in the west dropping just below the hills. The gold-purple sky was an inspirational sight. The constant breeze from the cars whizzing by below was quite effective in carrying my voice away, so I cranked up the volume. I was having a great time and expanded my material to include my favorite Webber show tunes. Other than a pair of guys walking by, my only audience was the late evening commuters most of who had just turned on their headlights. It was a blast. For 15 minutes I was able to belt out anything I wanted, as loud as I could.
When I was starting to feel the effects of singing continuously that loudly the sun had completely set, so I decided to head home. I was running a little later than I'd expected, so I increased my gait a just bit.
As my stride increased (mostly due to gravity) on my way down the sloped ramp back into the neighborhood, directly in front of me appeared two Palo Alto police officers who had just started their way up the ramp. Just a moment after I noticed them, they noticed me, and then did something very, very, strange. They quickly walked backward away from me until they were out of sight, around the corner, at the base of the ramp. I'd never seen anyone do anything like that before. How on earth could I intimidate two police officers just by walking down a pedestrian ramp? As I proceeded down to the exit I called out loud: "HELLO? Is everything alright?"
As I came to the bottom and walked around the corner there were about a half dozen of Palo Alto's finest, one with what looked like an M-16 and others with pistols pointed directly at me. There was much yelling and I see and hear a dog barking threateningly – "Don't move!" "Turn Around!" "Get Down!" "Put your hands where we can see them!" "Bark! Bark! [Jangling of a large dog chain.]"
I wasted no time at all, I put my hands in the air and turned my back to them. I kneeled, quickly enough that it hurt. "I think there's been some mistake, whatever you do, please don't let go of that dog" is all I could think to say at the moment. I had no idea what the heck was going on, but I didn't want to give them any reason to make a horrible mistake.
"Who are you?" "Where are you from?" "What are you doing here?" "What are you carrying?" were the rapid-fire questions I can remember. I quickly explained that I was on a walk, singing songs. "The only thing I'm carrying is my wallet, which shows I live two blocks from here", I said, still kneeling, I didn't even have my house keys. "Take it out and toss it on the ground, but move very slowly", said a woman who seemed to be in command of situation, She was to my left, but still behind me where I couldn't see her. Very, very cautiously, I complied. "Do you have anything else?", the request was rather urgent and sounded specific. "No. Nothing."
An officer came up and handcuffed my wrists behind my back, aggressively patted me down, and helped me to my feet. My wallet was retrieved the commander-woman. Once I could face the squad again, I clearly recognized her as Sandra Brown, an officer who had done many hours as a bicycle-beat cop in the downtown Palo Alto area, where my family had spent nearly every Friday evening for nearly 14 years. I was hoping that this meant she might recognize me as well, helping to diffuse whatever this horrible mess was all about.
She walked me over to the back of her police cruiser, pressing me back on the trunk hard enough that my handcuffed wrists were pressed into the car metal enough to let me know that I wasn't going to be going anywhere without her permission. She grabbed the walky-talky that I hadn't previously noticed had been set on the roof of the car and spoke into it "(muffled) check in. Anything?". I couldn't make out the response, but the meaning was made clear to me immediately when she asked:
"Did you go all the way across the overpass?" "No."
"Did you see anyone else up there?" "Just two guys that walked by about 20 minutes ago. Nothing unusual."
"Where did you put it?" "Put what? I didn't have anything."
"Did you leave behind any clothing" "Clothing? What? No."
Fifteen to twenty minutes passed. Officer Brown checked my ID and confirmed that I'm local. She noticed my shirt for the first time. The cuffs were starting to hurt. I'd been told to be quiet. The sturdy, but small blond woman with the assault rifle was keeping it at-the-ready, but it isn't pointing at me. The dog had stopped barking, but was at some kind of station-keeping pose. Lots more radio traffic. I finally piece together that at least two officers were on the other side of the ramp are looking for something, something that they think I might have hidden there, something critical to this situation.
Finally, the invisible officers at the other end of the radio apparently gave up the search. My heart stopped racing. My temperature started to drop. You see, I finally stopped thinking that I'm likely to end up wounded or dead due to someone panicking.
Once the search is over, it became clear that maybe the situation was not what they had expected/feared. Officer Brown started to explain: "We got a phone call from someone on a cel-phone driving on 101 reporting a sniper, wearing a trench coat, was shooting at cars with a high-powered rifle or machine gun." Apparently this triggered the Palo Alto equivalent of the swat team.
I couldn't resist: "An overweight middle-aged man, singing the lead from The Phantom of the Opera (probably waving his arms about, crooning to Christine about being 'inside her mind'), while wearing jeans and a tshirt that reads All Gave Some, Some Gave All on the back, somehow looks like a Columbine kid terrorizing the freeway with an automatic weapon? What irony: Wear a public-safety-supporting tshirt, get suspected of being a sniper.". This observation did get a bit of a giggle out of the one with the real Tommy gun, finally hanging peacefully at her side.
I was feeling a little put out: "One call with such a vague description gets this level of response? Did 9/11 really turn us all into people looking for a terrorist behind every darkened corner? A trench coat? This is pretty unbelievable." I was starting to get very sore about my wrist pain. "We're sorry, we need to be extra cautious in situations such as these, if it had turned out to be true… In any case, you'll have a great story to tell your kids and grandkids."
"True. Can I get out of these now?" There were a few more rounds on the radio, getting a final approval to release me. Rubbing my wrists I share, "You know, my family will never believe me when I tell them that this happened. Do you have one of those Palo Alto Officer trading cards our kids got at school a few years ago?"  Turned out that they were out of print, but Officer Brown did have a standard issue business card, which she gave me as they wished me well and I started walking home. [I know I still have it around here somewhere.]
Other than practicing the first of many tellings of this story on the way home, I have never forgotten that the fear generated by the terrorist attacks on 9/11 had changed our world forever. I don't think that driver would have ever made such are report if this had all occurred one year earlier.
Fortunately for me, the police still are trained to get things right before they themselves start shooting reported terrorists.
"I am a man of constant sorrow. I've seen trouble – all my days."