Posts tagged "legal"
April 29, 2014
Troll Indulgences: Virtual Goods Patent Gutted [7,076,445]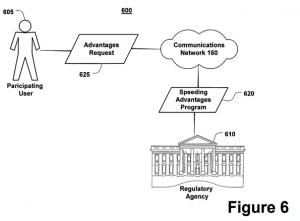 Another terrible virtual currency/goods patent has been rightfully destroyed – this time in an unusual (but worthy) way: From Law360: EA, Zynga Beat Gametek Video Game Purchases Patent Suit, By Michael Lipkin
Law360, Los Angeles (April 25, 2014, 7:20 PM ET) — A California federal judge on Friday sided with Electronic Arts Inc., Zynga Inc. and two other video game companies, agreeing to toss a series of Gametek LLC suits accusing them of infringing its patent on in-game purchases because the patent covers an abstract idea. … "Despite the presumption that every issued patent is valid, this appears to be the rare case in which the defendants have met their burden at the pleadings stage to show by clear and convincing evidence that the '445 patent claims an unpatentable abstract idea," the opinion said.
The very first thing I thought when I saw this patent was: "Indulgences! They're suing for Indulgences? The prior art goes back centuries!" It wasn't much of a stretch, given the text of the patent contains this little fragment (which refers to the image at the head of this post):
Alternatively, in an illustrative non-computing application of the present invention, organizations or institutions may elect to offer and monetize non-computing environment features and/or elements (e.g. pay for the right to drive above the speed limit) by charging participating users fees for these environment features and/or elements.
WTF? Looks like reasoning something along those lines was used to nuke this stinker out of existence. It is quite unusual for a patent to be tossed out in court. Usually the invalidation process has to take a separate track, as it has with other cases I've helped with, such as The Word Balloon Patent. I'm very glad to see this happen – not just for the defendant, but for the industry as a whole. Just adding "on a computer [network]" to existing abstract processes doesn't make them intellectual property! Hopefully this precedent will help kill other bad cases in the pipeline already…